Yes, you read that right.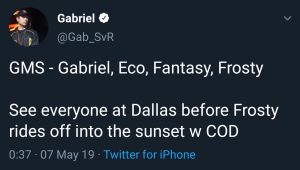 Frosty was formerly on TOX Gaming in Halo 5, but made the switch over to Call of Duty once the H5 HCS season finished. Currently, he plays for Enigma 6 in the COD Pro League.
A little over a week ago, people noticed that Goofy was no longer on the GMS roster and we have all been waiting anxiously to see who they grabbed to take his place. I had asked Gabriel about who the new fourth was, in which he replied "just know they're a legendary Pokemon" and he wasn't lying. Frosty has multiple championships under his belt and even though he switched full-time to COD, has still been playing Halo 3 online.
It seems like this is a one-time thing, but we can't wait to see how him and the rest of GMS will do against his former teammates at DreamHack Dallas.