UGC has announced the Top 12 teams going into Halo Classic: Atlantic City.  The Top 8 teams qualify for Master Status, which includes direct placement into the Championship Pool, paid accommodations, and more.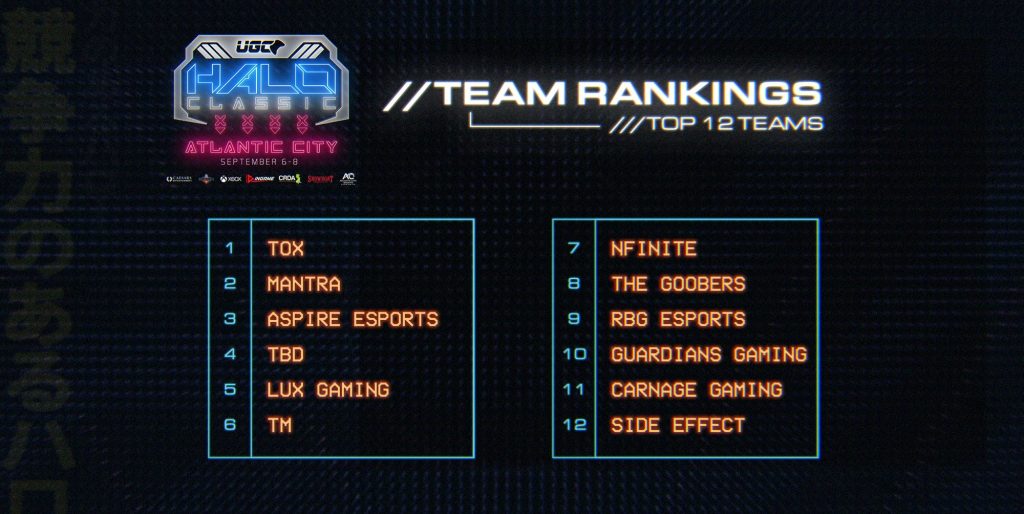 Here are the rosters:
TOX – SnakeBite, Lethul, APG, Royal 2
Mantra – Neighbor, Ace, bubu dubu, D3MON D
Aspire Esports – Str8Sick, Aries, Shele, Fantasy
TBD – Eco, Frosty, Snipedown, Pistola
Lux Gaming – Goofy, RyaNoob, Gilk3y, Gabriel
TM – TriPPPeY, Penguin, Commonly, Rayne
Nfinite – Falcated, Shotzzy, Sabinater, Blaze Rozay
The Goobers – Zurka, Cloud, Omega, Porky J
RBG Esports – Employee, Rowan, Skary, Display
Guardians Gaming – Queen, Weakachu, Guntype, BlackHaloGod
Carnage Gaming – Hoaxer, Eli Elite, LifeStyle, Sorrell
Side Effect – Alemite, Gunfiiree, Manipulator, Chaos914
Halo Classic takes place this weekend at the Showboat in Atlantic City, NJ.