Halo: Reach is coming to MCC and debuting on PC next week, but first we have a new Development Update from Postums over on Waypoint. The update includes the latest Reach progress from 343 on key issues that many of us were concerned about. Here's a quick rundown:
Many improvements have already been made to mouse input issues and will continue to be worked on after launch.
There are no current plans to change aim assist on PC when using a controller. As said before, changing it "will close some doors and create a new set of challenges to work through" including cross-play.  They are, however, doing some research about an "opt-in" feature.
In the last developer post, it was said that the variable frame rate implementation 343 had planned for Reach didn't meet expectations and the build was locked at 60fps. This upset many, as one of the biggest advantages to playing on PC is the frame rate, and was one of the major concerns about Reach releasing too early. Fortunately, 343 has made crucial improvements that are "showing very promising results" in the current flighting. Because of these improvements, variable frame rate will be included as an option on December 3rd at launch.
The audio issues that many were experiencing are still being worked on. Most recently, a dynamic audio fix has been made.
Servers have been upgraded for launch to help with latency issues and will be improved consistently. It also sounds like players may soon be able to choose what servers they would like to play on, so players from other regions than North America can have a better experience with the game.
A push-to-talk feature has been implemented and be hard bound to the V key. Pressing and holding the key will activate your mic, while releasing the key will close it. 343 is also looking to expand PTT to console after launch.
VSync issues are believed to have been fixed and will continue to be monitored.
Also note the Forge and Theater will be coming to PC later next year, PC files share uploads will not be active at launch, and the migrated maps/modes will be able to be accessed at launch.
Changes have also been made to the new progression system. The XP values awarded to players have been updated, previews of the unlockable items for each tier are being worked on (see image below), and ways to offer players the choice on what they want to unlock is also being looked into.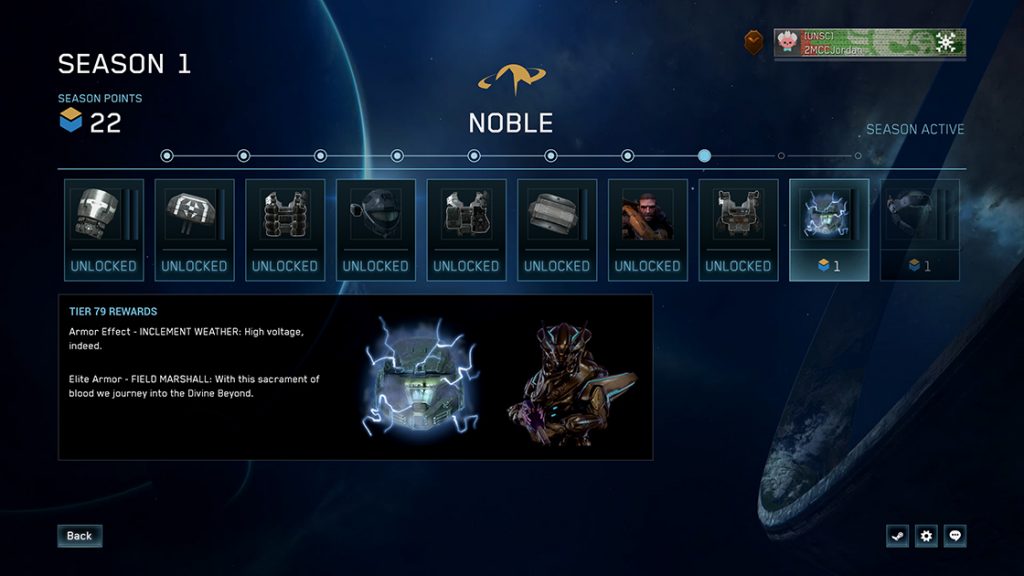 The blog post also goes over the XO19 London event and there's some technical talk that covers bloom, why the Title Update for Reach isn't used everywhere, Forge, and the VSync/input latency issue from Flight Three.