DreamHack and HCS have released information regarding DreamHack Anaheim, including team passes, qualifier dates, prize pool, and more.
Team passes, good for four players, are $199 each and are limited to 76. Roster lock will take place on Thursday, February 13th at 11:59PM EST. Teams can still submit their rosters after the lock date, but will not be directly seeded into pool play. You can purchase your team pass through DreamHack's Tixr page. Players will be required to bring their own peripherals to the event.  More information on that TBA.
Qualifiers leading up to the event will be online on PC and hosted once again by UGC. There will be four, single-elimination qualifiers taking place on January 19th, January 25th, February 1st, and February 8th. The Top 12 teams by points at the end of all four qualifiers will be seeded directly into Pool Play. You can sign up for the first qualifier now over at the UGC Esports website.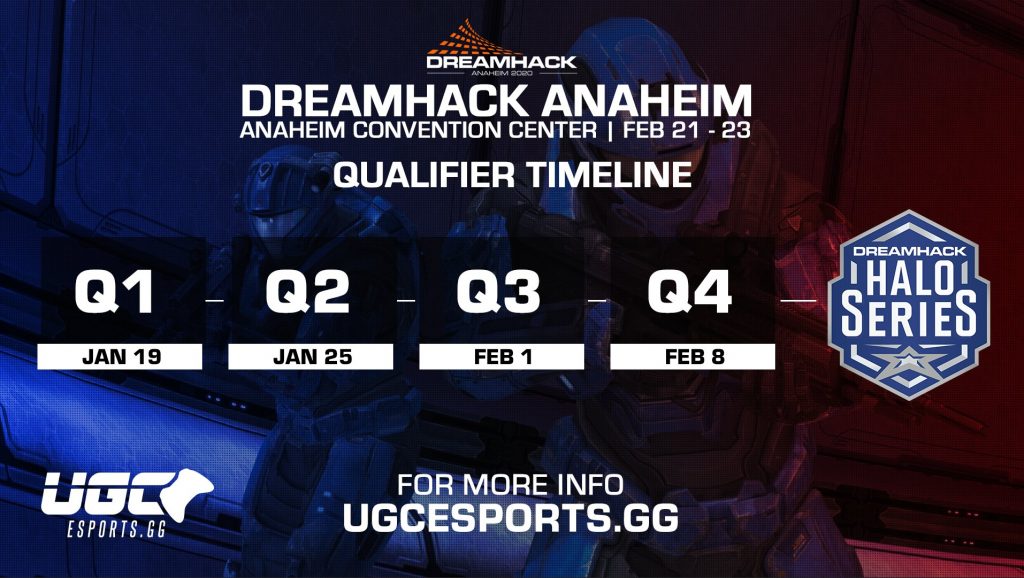 The tournament will feature a 64-team Open Bracket followed by Pool Play which will include four pools of four teams (12 seeded teams from qualifiers + four from Open Bracket). Teams placing 5th through 8th in the Elimination Bracket from the Open Bracket will be put directly into the Elimination Bracket of the Championship Bracket. The Championship Bracket will be double-elimination and feature 20 teams.
The prize pool for the tournament is $50,000 with $25,000 for 1st, $10,000 for 2nd, $6,000 for 3rd, $3,000 for 4th, $2,000 for 5th/6th, and $1,000 for 7th/8th.
For all information including hotels and more, head to the DreamHack Anaheim Halo page.