The first LAN of the 2021-2022 HCS Season is only a day away. The Raleigh Major is bringing the best teams across the globe under one roof to compete for a $250,000+ prize pool and the first Major championship. We've asked a few of our friends to make some predictions on who they thought will make it out of the Pool Play stage and who will win the tournament overall.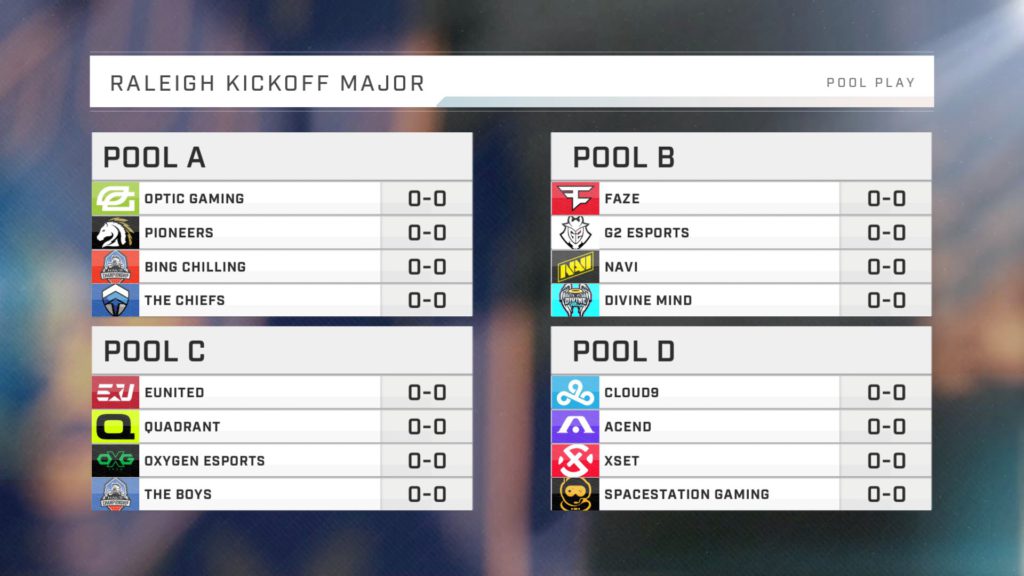 Richie "SherzyOne" Sheridan – EU HCS Caster
With attendees flooding their way into Raleigh for the first ever Halo infinite Major it's time to see how each region stacks up alongside one another. Who will climb out of the trenches of pool play? Here are my predictions.

Pool A: Optic & Gaming Pioneers

Pool B: Faze & Navi

Pool C: eUnited & Quadrant

PoolD(eath): Cloud9 & Acend

Champion: Sentinels
Garrett "Toolez" O'Toole – Caster/Analyst
I know this list comes as a bit of a shake up compared to most but I'm a firm believer in this Sentinels roster despite Royal2 not being able to make the tournament. When Sentinels pull off the impossible they will truly cement themselves as the greatest roster to ever play Halo. I believe Formal can fill the shoes left by Royal 2.

This is the tournament for the Pioneers to truly show that they belong and I believe that they will do so with a Top 4 finish this event. If there is a team that I want to completely bust this list it will be the Ascend roster. This EU roster are monsters and I fully expect them to make some noise this tournament and knock Spacestation Gaming out of contention of Winner's Bracket from the Pool stage.

Pool A: Optic, Pioneers

Pool B: Faze, G2

Pool C: eUnited, Oxygen Esports

Pool D: Acend, Cloud 9

Champion: Sentinels
Harry "Wonderboy" Channon – Caster/Analyst
POOL A:

Optic 3-0
KCP 2-1
The Chiefs 1-2
Bing Chilling 0-3
Optic vs Pioneers is the real beauty matchup of this group, with both teams staples of the top 4 in online competition. They seem destined to be on a collision course for supremacy in this group, but it's hard to argue against OpTic's strength here. Bing Chilling (EU, formerly HMDA) will have their hands full with tough matchups all around, with ANZ's #1 squad being their closest matchup.

POOL B:

FaZe 3-0
G2 2-1
NaVi 1-2
Divine Mind 0-3
Three fairly evenly matched teams in this pool, with the partnered teams FaZe, G2 and NaVi all capable of trading games with each other. The glamour match here has to be G2 vs NaVi, with the European side struggling domestically, and G2 finding some form as of late.

POOL C:

eUnited 3-0
Quadrant 2-1
The Boys 1-2
Oxygen Esports 0-3
As much as I wanted to predict a Quadrant 3-0 record in this group (it's entirely possible, and wouldn't surprise me if it materializes), it's hard to go against proven LAN winners in Ryanoob & Spartan from eUnited. Sleeper team Oxygen Esports may provide some tough matches to The Boys elsewhere in the pool.

POOL D:

Cloud9 3-0
Acend 2-1
XSET 1-2
Spacestation 0-3
Dubbed the "Group of Death", Group D has glourious matchups wherever you look. Acend (formerly Cartel) get their first taste of international competition on LAN, and have banana peels all around them. Cloud9 have looked dominant, and shouldn't fear any team here. However, XSET, Spacestation and Acend are all capable of trading series'. It wouldn't surprise me if tiebreaker

Champion: OpTic Gaming

No doubt bolstered by the late (and forced) Sentinels team change, OpTic seem destined to return to the top of the Halo tree for the first time since 2017. Main rivals that could trouble them include Cloud9, Pioneers and FaZe, but the quality of OpTic should see them through to a victory.
So what do you think? Let us know your predictions on Twitter @NoobComboCom and be sure to watch the Major starting tomorrow at 11:30AM EST on Twitch.tv/Halo.